Wai Yi Ng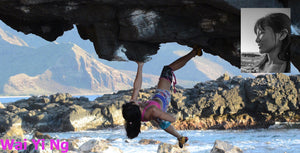 Type of Athlete:  Bouldering & Sport Climbing
Favorite Outdoor Location: The Arch (Oahu, HI) and Plenty Kiawe (Maui, HI)
When I was 25 years old in my last year of college, a fellow geology student asked me if I wanted to try climbing… outdoors!  An obsession for climbing began.  
I started training, projecting, and eventually sending problems that pushed my limits, physically and mentally.
I want to help continue the climbing development in Hawaii and am currently projecting Rock Bottom (V9), Night Terrors (V8), Final Countdown (V8), and Wired Right (V7). I also plan to offer more time preserving and conserving the climbing areas in Hawaii.

Aloha!