MEG GALLAGHER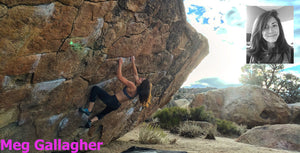 Type of Athlete:  Rock Climbing & Bouldering
Favorite Outdoor Location: Rocktown, GA 
When I was 26, A climbing gym opened in the town I was living in, Progression Climbing in Chapel Hill, NC. Also, I love being outside and really enjoy having a reason to visit all the magical outdoor places where boulders reside. Some of my favorite aspects about the sport are Movement and the community. Every time we take a climbing trip I meet rad new people who I can share my passion for climbing with. 
In the future I hope to get stronger / more technically savvy to be able to climb as many boulders as possible in as many gorgeous destinations as possible. 
GIDDY was started in town where I began this journey and I am honored to be able to represent the brand!!!