Not just your average hand balm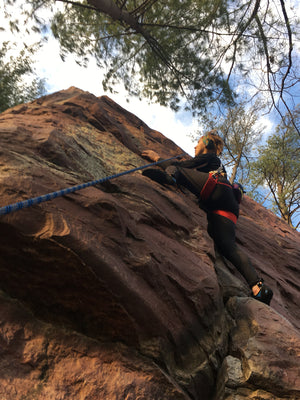 When it comes to climbing, or any outdoors activity really, having the right gear is necessary to get the job done. It doesn't much matter if it's second-hand or not, it just needs to do its job. On that note, though, climbing hardware can get all too expensive, but we end up paying the price in order to get the quality of equipment to make sure that we can do what we want to do, safely.
Some people don't always think of hand balms as an essential in climbing equipment. But I think we can all agree that our hands are definitely one of the most important tools we regularly depend on while on the wall. Needless to say, taking care of our hands is vital to do the thing we love, so doesn't it make sense to treat our hands only with the very best?
I have tried hand balms far and wide, attempting to get rid of eczema, heal cuts and prevent callouses from ripping open at the crag. Whether you climb on quartzite or granite, gripping the wall is no easy task for our palms and fingers, not to even mention the impact that chalk can have on nail beds.  Luckily, before I even got out to Joshua Tree, on some harder, rougher rock, I found Giddy's Hard Lotion & Healing Salve. I'm a lavender kind of lady, so of course, I went right for the purple-covered tin.
At first, I was tentative to rely on such a strange-looking hockey puck of wax to save my hands from the destructions that come with climbing.  But it smelled fantastic, was easy to use and small to store. I had friends, fellow climbers, who would ask me about my newest habit of rolling around the puck in my palms a few times before leaving the crag or the gym. They'd try out the hand salve too, and be pretty excited about the awesome smell and how quickly the lotiony feel absorbed into the hands, not really leaving too much of a sticky residue. But it wasn't until I was climbing out on a brisk fall day that I realize the hand salve's greatest quality.
After crack climbing all day, my feet were beat up. The tops of my curling toes were starting to rash over and my heels were near cracking. The idea occurred to me that if the salve works on your hands, why not your feet too? Following a quick rub down on each of my barking dogs, they immediately started to feel better. Walking back to the car was a breeze because of how the salve had loosed up my skin and prevented any further rubbing on the tops of my toes and cuticles.
Later that week, my adventures took me to climb in Joshua Tree, where the rock and every plant in sight is just out to hurt you. Three long days of climbing later, my legs, elbows, wrists and hands were scraped raw from all the jams and off widths. In order to stop the burning I felt on my skin, I grabbed right for Lavender Healing Salve. I brushed the wax across the top of my many cuts and vio-la, good to go. The waxy finish of the hard lotion helps keeps irritating wing from making open scrapes burn more. Since the salves have all natural ingredients, there were no chemicals to further make my skin sting. The silky soothing attributes of the lotion were painless to rub on and then did wonders keeping dirt out of my open wounds.
Speaking of all natural ingredients, this not only helps you use safer, more body-friendly products, but this also impacts the environment in which we love to climb. Obviously we know that excess littering is hurting the world around us. It's rare that we think of the amount that we touch things in our environment also impacts the surrounding ecosystems. Every time we chalk up and stick our hands back on the rock, we leave remnants of that chalk for the plants and animals native to that ecosystem to learn to deal with this newfound invasion of white dust. In the same way, every time that we lotion our hands, that substance transfers to the walls we thrutch on. Think about the amount of times that you've slid off a sloper or crimp; we lose a layer skin and a layer of whatever lotion and chalk every time that happens, and it stays there on the rock. When an animal comes along, that left behind layer can hurt it. But since Giddy's products, including their hand salve, are all natural, it is very unlikely that it will hurt any organisms that also use the same rocks we climb on. This is extremely important because if we don't take care of the environment around us, we could lose the beautiful landscapes in which we love to climb.
That being said, Giddy's hand salve would be a good addition to your climbing gear repertoire. The lotion is good for your skin, good for the environment and has so many different uses. Take Giddy good of your skin; it makes it all the easier to be awesome.
100 Responses